Okay, guys, let's get down to business.
I will try and give you a brief look into my chest and triceps workout.
1st exercise
5 sets of flat bench press
I always start off very light on my first set, which I class as warm up, it usually consists of 15 reps of 60Kg.
I then start piling on the weight and lowering the reps on each set I do. By the 5th set I usually finish off doing 2 reps at 170Kg. My personal best is 200Kg.
Technique is very important at the start of this exercise in order minimize injury. So I tend to do more of a body-builders bench press on the first 4 sets. On the 5th I aim to shift as much weight as possible so I adopt more of a power-lifters press which is slightly different in posture and positioning.
Second Exercise
4 Sets of Incline bench/dumbbell press
Okay, so here I follow the same concept as before but I tend to skip the warm up set and usually start at 80kg on my 1st set and end up on 140kg on the last set.
Please note the bench should be placed at a 30 degree angle for maximum target on the upper chest.
3rd exercise
4 sets of decline bench/dumbbell press
Following same concept as incline bench press. The Bench should be set at -30 degree angle for maximum impact on lower chest.
4th exercise
3 sets of flat bench dumbbell flyes
I usually start off very light with 12 reps and finish off on 6reps in a heavy weight.
5th exercise
3 set of incline dumbbell flyes
I increase the bench to 30 degrees and repeat the same as flat flyes.
6th Exercise
5set of Flat bench skull-crushers with ez bar.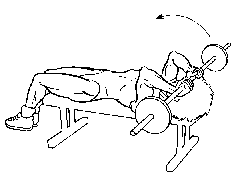 Technique is very important as this exercise requires a lot of balance, so I always start of very light, usually at 20kg 15 reps and finish off on 50-60 kg on 6 reps.
7th exercise
4 Sets of standing Tricep press down
Yet again following same concept of starting light on high reps and finishing heavy on low reps.
8th exercise
4 sets of weighted dips
I start of with just my own body weight and finish off with a 30kg weight between my legs on the last set.
And that concludes my chest and triceps workout. It usually lasts around 1hour 30 minutes. Rest between sets is between 1 to 3 minutes.
I always make sure I stretch both before and after my workout.